CircInWater is a 36-month European project running from 2022 to 2025, funded by the European Innovation Council and SMEs Executive Agency (EISMEA) through Joint Cluster Initiatives (EUROCLUSTERS). The main objective of the project is to support the triple transitions (green, digital, and resilient) and the development of water-smart solutions in the agrifood and energy-intensive industries. This effort aligns with Europe's recovery initiatives and aims to address water-related challenges like consumption and pollution, while contributing to economic sovereignty.
The project has several specific goals:
Supporting SMEs in Transition: CircInWater aims to expedite the triple transitions by assisting small and medium-sized enterprises (SMEs) in developing and implementing water-smart solutions as part of their transition strategies. This includes making operations greener, more digital, and resilient.
Connecting SMEs: The project aims to link SMEs along the water value chain within key industrial ecosystems. This connection seeks to enhance the resilience of these SMEs and their ability to effectively manage future shocks and crises.
Boosting Innovation: CircInWater seeks to foster innovation among SMEs, encompassing product and tool development for building water-smart industrial sectors. This could involve creating novel technologies, processes, or solutions related to water utilization and management.
Enhancing Collaborative Capacity: The project aims to improve the collaborative and innovative capacity of SMEs by offering tailored "Joint portfolios of training services." These training sessions aim to enhance their ability to collaborate effectively and innovate.
Promoting Green and Digital Economy: CircInWater intends to drive the adoption of processes and technologies facilitating the transition to a greener and more digitally focused economy. This aligns with the broader objective of achieving sustainability and efficiency.
Internationalization: The project aims to accelerate SMEs' international expansion by establishing critical support services. This could aid SMEs in expanding their activities and market presence beyond their native countries.
Effective Communication: CircInWater strives to maximize its communication impact by engaging with key industrial ecosystems and SMEs. Effective communication is essential for disseminating project outcomes, knowledge, and opportunities.
Long-Term Strategy: The project also aims to outline a sustainable long-term strategy that ensures the continuity of EUROCLUSTER and its positive effects on transforming European SMEs in a resilient manner.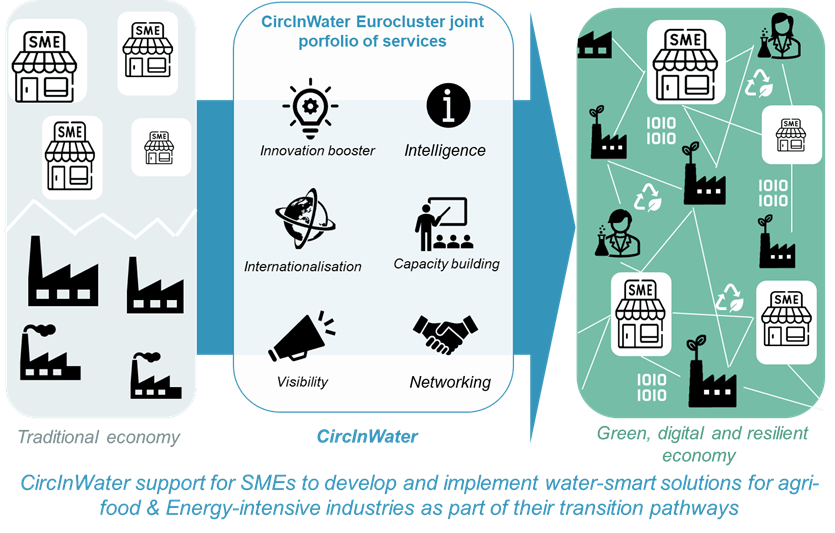 A major component of CircInWater is financial support for European SMEs. The project has allocated a total of €1,050,000 for this purpose. SMEs operating in the agrifood and energy-intensive sectors, such as pulp & paper, mining, steel, and chemicals, can seek financial support under three main categories: Innovation, Knowledge/External Expertise, and Internationalization. Each SME can receive up to €60,000 in financial assistance from the project. Furthermore, SMEs have the option to apply for financial support in more than one of the mentioned categories, up to a maximum of €60,000 per SME.
Partners:
ZINNAE (Spain)
Water Alliance (Netherlands)
Blue Economy Mikkeli (Finland)
Water Cluster Finland (Finland)
France Water Team (France)
CREA Hydro&Energy (Czech Republic)
Innovation Centre of the Olomouc Region (Czech Republic)
Overall, CircInWater represents a comprehensive endeavor to drive sustainable and innovative water management solutions in key industrial sectors, while also supporting the growth and resilience of European SMEs.